Innovation & Growth
Innovation and growth of your digital product portfolio that your business and customers need.
Launching a digital product is just the beginning. We create beautifully designed platforms and applications that customers want to use. We also equip your business for a digital future and put you in the best position to attract a new audience and retain your loyal customer base. We help you grow by ensuring that your products are well-maintained and optimised and they add the maximum value to your end users. Scroll down to find out how.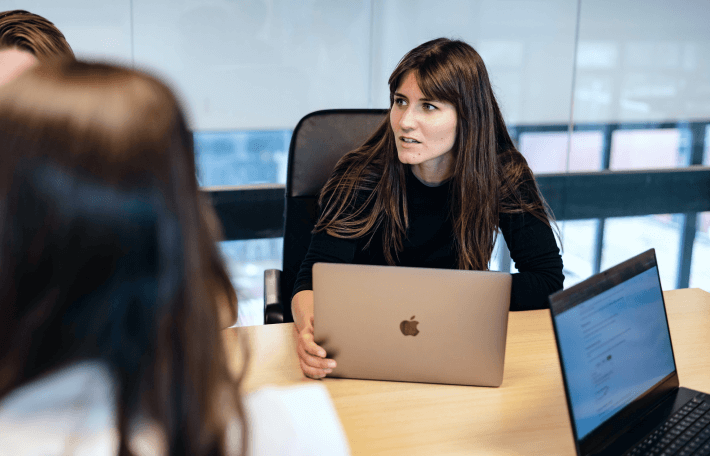 This is our tried and tested recipe for Innovation & Growth:
We collect customer insights
We analyse user satisfaction and uptake to gauge how people use your products. By reviewing the results of your product launches we identify areas for growth or enhancement based on customer behaviour insights.
We make sure you stay competitive
As your digital partner, we maintain your products and we offer recommendations on how you can increase your market share. We ensure that your platform or application stays future-proof and you are kept up to date with developments in both your sector and the tech industry.
We connect you to the best partners
We connect you with our trusted partners in digital marketing, SEO, advertising, data and much more to ensure you continue to move forward strategically and stay ahead of the game.
We increase your team's digital skills
We build your digital product skills and knowledge so you stay in control and take ownership of your product.
We ensure your infrastructure is "scale-proof"
We manage the hosting services and availability of your platform or application as it scales. Even if you grow to more than a million users, we've got you covered.
We help you grow the digital product portfolio your business and customers deserve. Contact our team today and find out why we are the best choice for your digital future.
These are our Innovation & Growth deliverables
Product Roadmap
Here we create an actionable plan that outlines the vision, direction, priorities and progress of your product over time. We map this to your long-term goals and strategy and back it up with user and market research. This approach ensures your digital growth trajectory is future-proofed and sustainable.
Performance Optimisation
Digital technology is constantly evolving, so your business needs to adopt new technologies and ways of working to stay competitive. We bring the ideas and execute the plans that help your business meet customer expectations and set you apart from new and established players in your market.
Feature Development
We work with you to identify new features that deliver more value to your customers and business. These are researched, strategised, designed, prototyped and tested to ensure the whole platform functionality is optimised.
Maintenance & Support
As a full-service agency, we are committed to supporting you every step of the way. Our team helps you manage software updates, product integrations and hosting. Whatever you need to thrive in a digital future.
Innovation & IT Consultancy
We always have our ears to the ground when it comes to digital technologies, and we love sharing our findings with our clients. By getting to know your business and your customers, we can recommend the latest tools and tech that will enhance your digital portfolio.
Custom software
We specialize in crafting tailor-made software solutions that not only stand the test of time but also adapt seamlessly to the ever-evolving tech landscape. Our top priority is safeguarding your data, while our intuitive designs are meticulously crafted to cater to the unique preferences of your user base.